Description
We want to collaborate with an open-minded person, ready to initiate, carry on and deliver almost any type of recruitment project: executive search, headhunting and also for junior positions and blue collar.
We offer HR consultancy services, especially for recruitment projects and for headhunting. Our clients are from different domains: pharma, medical, industry area, IT&C, engineering, services, publicity, marketing, construction etc. We tend to have long term relationships with our clients due to our efficiency.
What we offer:
Challenging recruitment & headhunting projects.
Possibility to have long term collaboration business relationship in this area.
Remote work & flexibility to develop your unique style in collaboration with business partners.
Nice to have:
Entrepreneurial skills and willingness to share and learn a lot during our collaboration.
Project management experience on divers recruitment projects, especially headhunting.
Possibility to work on determine projects for different clients and to invoice success fee and/or other type of system (during our collaboration, we are open do negotiate).
Your own data base, networking relations with good and flexible candidates from difrent industries.
Excellent communication skills, open minded and positive attitude.
Lot of flexibility, understanding & intuition regarding the issue that can occurred during ongoing projects.
How we collaborate:
We can provide you some interesting projects, serios companies and long term relationship collaborations, depending on how we manage the projects.
If you resonate with this, I think that we shall meet and discuss our terms of collaboration and please send your profile and some details about your services/projects.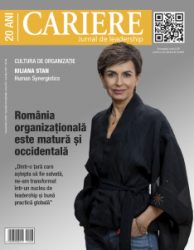 Revista CARIERE nr. 281 - Dec. 2022
CITESTE