Descriere
For our business partner, Blue Bridge One a leading NetSuite UK Solution Provider with over 10 years' experience of selling, implementing and developing within the NetSuite cloud business management suite. We are seeking an experienced, self-motivated Project Manager–Implementation Consultant.
The role will require not only someone with a strong ERP implementation background but also someone who also has displayed the ability to move to the next level by being able to understand and solve business problems. 
 Responsibilities
 The main functions of the role include:
Customer analysis of requirements for new implementations
NetSuite Implementation Project Management, Configuration, training and support
Support Sales Activities on functional requirements and demonstrations
Essential Requirements
Our ideal candidate possesses a combination of strong implementation background, excellent analytical skills, good customer-facing skills and a solid understanding of business systems. 
Significant experience in an external or internal consultancy or "trusted expert" role.
Deep knowledge of transactional business processes such as such a procure-to-pay and order-to-cash, including accounting impact.
Excellent analytical and problem-solving skills
Excellent written and verbal communication skills
The ability to work in a team as well as independently.
A can-do attitude and strong work ethic.
Candidates must also have one of the following skills specializations:

Accounting: a qualification in accounting coupled with strong up-to-date knowledge of business accounting processes, from book-keeping through to multi-company consolidation. The ability to converse at the CFO level is essential
Solutions Design: a degree in a computing-related discipline along with experience in analyzing, designing and specifying custom software solutions
Software Development: multi-year experience in programming, with experience of JavaScript and a computing-related degree strongly preferred.
Desired 
Degree in Computer Science, Engineering, Accounting, Business Management or similar disciplines.
Previous experience implementing ERP+CRM systems
Experience in face-to-face analysis, specification, project planning using Gantt charts and effort estimating.
Experience managing and leading small project teams with evidence of delivering successful projects.
Prior work as an external consultant is a bonus. 
You will be required to evidence these requirements during the application process.  As you will be working completely within the NetSuite platform you will be ready to embrace new technologies and have an enthusiastic approach to learning and self-study. 
There will be a requirement to travel nationally and possibly internationally but the majority of work will be performed remotely from your home office.
 If this sounds interesting for you, let's talk! [email protected]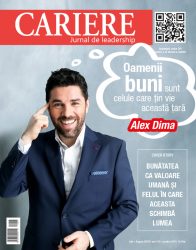 CARIERE no. 259, iulie-august 2019
Citește-te acum