Descriere
Business Relations Management:
Analyze business requirements received for IT solutions;
Analyze and create the technical solution (independently or with support of IT solution supplier).
Project management:
Create and manage the project plan;
Coordinate/Manage the relation with the Business and with the Supplier;
Coordinate/manage contracting activities.
IT activities above relates to IT systems used by the company. IT systems/Applications in scope support the following processes: Billing, Invoicing, Credit Management, Energy data Management, Value Added Services, Customer Service, Customer Care, Marketing.
Technical skills:
SAP IS-U knowledge;
Experience in Business Relation Management;
Experience in preparing / checking of technical specifications;
Project Management;
Knowledge about IT systems integration, Web and mobile app technology, other technologies.
Soft skills:
Analytical and synthesis skills;
Planning and organization capacity;
Ability to work in a team, communication skills;
Initiative.
Previous experience:
Experience in SAP ISU technology;
Experience in Project management;
Experience in the utility companies can be a plus;
University degree (preferred in the IT area).
 We offer:
A great team, learning and growing opportunities, a nice office environment;
Salaries between 6500/8500 lei net, depending on experience;
Benefits: meal vouchers, work from home, holidays bonus etc.
Only the suitable candidates will be contacted.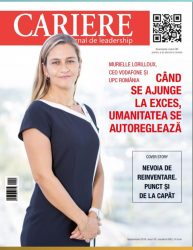 CARIERE no. 269, septembrie 2019
Citește-te acum