Description
We are looking for a QA Automation Engineer that will be involved in testing a huge live streaming platform for SaaS architecture. You'll be part of the entire lifecycle of the project, starting from designing the architecture up to deploying the code on production.
Our business partner is a fast-growing and innovative internet development company, with over 15 years of international experience in building and maintaining web-based projects. Their main project is not your usual platform. It must face heavy traffic (55 mil. unique users/month, 380 million page views, 25k concurrent users every second), live video streaming (webRTC, HLS), and fast loading website. They have around 120+ microservices built so far.
Requirements:
Bachelor's degree, or equivalent experience, in Computer Science, Mathematics, or a related field;
Minimum 2 years of experience in Test Automation;
Basic programming knowledge - Java preferable;
Previous experience in test automation and/or knowledge of testing methodologies;
Experience with Selenium (would be a plus);
Previous experience with Agile methodologies (nice to have).
Responsibilities:
Write and execute test cases;
Perform functional, confirmation and regression testing;
Develop, execute and maintain automated test scripts;
Document and report bugs following company guidelines;
Understand and analyze Functional, Technical, and UI requirements of the project/release;
Log defects and verify defect fixes;
Work closely with programming teams to ensure the smooth launch of new code updates or additions.
Benefits:
You can work full remote or in a hybrid work setting depending on your location & preference
We encourage professional development, as we have various tech training providers
Medical Subscription, Bookster account, meal vouchers (max value), 2 days/year if you're feeling sick and not up to it
Internal events (team buildings, team outings, hackathons, and all sorts of stuff).
Related Jobs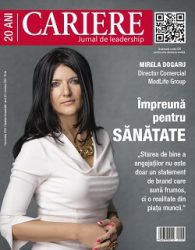 Revista CARIERE, no. 280, oct. 2022
CITESTE