Descriere
We are looking for an experienced top-notch React Native Developer for our business partner -  a company founded in 2013, specialized in building online games that strive for bringing the best game experiences for users.
You will be part of a small, multinational, and talented group of people who share the same passion for delivering great gaming experiences that reach and connect users all around the world.
Responsibilities
Develop (hands-on coding) mobile games including all phases of the SDLC
Optimize mobile аpps for maximum speed and accessibility.
Write clear, concise, and well-documented code.
Take full ownership of features and see them through from their inception to deployment
Effectively manage timelines and expectations.
Be involved in testing and measuring hypotheses
Requirements
Bachelor's degree in Computer Science, Information Technology or Engineering.
At least  3+ years of professional experience in mobile development with React Native
Good experience with building native mobile apps (Android in Java or iOS in Swift or Objective-C)
Good experience with JavaScript and HTML/CSS
Have a good understanding of REST APIs
Knowledge of version control (GIT / SVN)
Hands-on experience building an entire end-to-end product as part of a team
Demonstrated ability to take ownership of projects and constantly look for ways to improve
Experience in designing and developing apps focused on user activity flow and user experience
Ability to define the approach, scope, and cost of projects to assist in closing new business
Ability and desire to leverage team members effectively and possibly take a leadership role
Adaptability and willingness to work on a variety of tasks and ability to prioritize
Strong problem-solving skills, communication (written and verbal English), and presentation
Compensation& Benefits
Bonuses based on performance-based
Attractive salary with private medical services and meal tickets
Working in an environment with a focus on innovation
Work from home currently.
If this sounds interesting for you please apply at https://recrutare.evolvetoday.ro/jobs/1039385-react-native-developer OR send your resume at [email protected]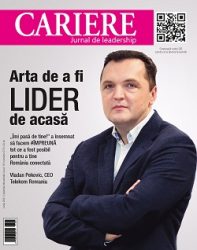 CARIERE no. 272, iunie 2021
Citește-te acum