Descriere
For our business partner, a global provider of engineering design software and collaboration software, we are looking for a Release Engineer to join their team in Bucharest. You will be part of their talented team of software developers and system engineers.
Their mission is to develop an intuitive and user-friendly environment for effective collaboration throughout design and construction for all engineers and architects.
Responsibilities:
Setting up, monitoring, and maintaining systems to support the release process in our development efforts. The mentioned systems, written in Python and Java, are tailored to support continuous testing and code validation of our C++ codebase.
Prepare upcoming releases together with the product owners and technical leadership.
Document steps relating to the release process.
Assemble data on release metrics.
Review engineering practices, optimize current release processes and meet with the development team to discuss future product needs
Modernizing the installers on our supported platforms (Windows, Mac, Linux)
Requirements:
Bachelor's Degree in Computer Science or related technical field.
At least 3+  years of previous experience in release or software engineering.
A good understanding of C++ and Python is imperative.
Expert level understanding of Version Control Systems (Git).
Experience working with databases (MySQL).
Experience with CI/CD processes and testing frameworks.
Proficient in English
Benefits:
Young and dynamic environment.
Motivational salary.
Opportunity to develop.
Flexible work hours.
If this sounds interesting for you please apply at https://recrutare.evolvetoday.ro/jobs/1194956-release-engineer or send your resume at [email protected]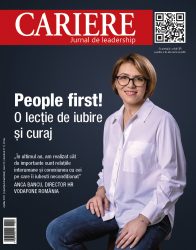 CARIERE no. 271, aprilie 2021
Citește-te acum