Descriere
Job role: Supervises and provides support in the activity of internal and external financial reporting at Corporate level according to International Financial Reporting Standards (IFRS) in order to develop the financial and business strategy at group level.
Job Description
Participates in coordinating the financial consolidation process at the group level according to International Financial Reporting Standards (IFRS) in order to prepare and submit financial reports;
Verify, partially or totally periodic financial reports (monthly, quarterly, annual) for management (i.e. Balance Sheet, Accounting Notes, Income Statement, Cash Flow, Master Report, etc.) using standard systems and procedures for financial reporting;
Participates in the use of the monthly financing reports of the Group's financial statements;
Participates in the coordination and conduct of the annual and semi-annual external audit in order to obtain the audited financial statements on time;
Participates in investments and implement accounting policies, procedures and practices of group units, as well as verification of compliance with information about all group entities;
Participates in the continuous improvement of a financial reporting system within the group;
Provides support and consultancy for reporting issues within the team and contributes to the team members development.
Requirements
Bachelor's Degree in economics/finance (Additional qualifications related to the job would be considered a valuable asset- ACCA, CertIFR, DipIFR etc);
Minimum 4 - 5 years' experience in reporting/financial analysis/controlling;
Knowledge of the International Financial Reporting Standards and Romanian Accounting Standards;
Ability to generate, interpret, easily understand and translate the Financial Statements of a company (Balance Sheets, Statements of Income, Statements of Cash Flow, and the accompanying notes thereafter) into relevant business information in order to take the appropriate decisions;
Good communication skills;
Strong planning & organizing skills, prioritization and time management;
Very good command of English language;
Experience in managing a team;
Advanced MS Office knowledge and SAP;
Capable of managing workload and prioritizing multiple responsibilities in a dynamic work environment.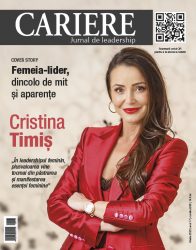 CARIERE no. 265, martie 2020
Citește-te acum