Descriere
For our client, a shared services center that offers financial services for a project management company, we are looking for a Resolution And Support Agent with French. The company offers fully professional services in a wide variety of industries, from mining & metallurgy, oil & gas, environment & water to infrastructure and clean power.
Responsibilities:
Answering calls and emails, documenting and recording all incidents / requests sent with the ticket management system;
Managing applications for financial processes (internal and external) and offering solutions;
Reconciling accounts payable when needed;
Performing root cause analysis, identifying problem / gap, and providing solutions;
Identifying opportunities for process and system upgrades;
Sharing knowledge by contributing to the creation / updating of team procedures and documents;
Doing any other tasks related to the activities of the resolution and support team.
Requirements:
Good knowledge of French (B1+);
Good knowledge of English;
University degree or relevant experience in accounting;
Basic Accounting Knowledge is a plus;
Excellent knowledge of Microsoft Office Suite;
Knowledge of the acquisition process until the payment (procurement-payment) of an asset;
Customer service experience would be an asset;
Excellent communication skills;
Strong team spirit and strongly results oriented;
Very good time management skills.
Benefits:
Flexible working schedule – organized in 3 shifts: 9:00-18:00, 10:00 - 19:00 and 13:00 - 22:00* Monday to Friday *3 mandatory evening shifts per month - Evening shifts bonus starting after the third mandatory evening shift per month;
Work from Home;
Motivational financial package & flexible benefits; Easter and Christmas bonus;
Direct contract with our client;
Team buildings, [email protected] activities and free French language classes;
Learning and Development programs, Training, Career opportunities;
Employees Wellness Program – fresh fruits, chair massage, counselling sessions, additional sick days, employee wellness rooms;
A friendly and dynamic work environment.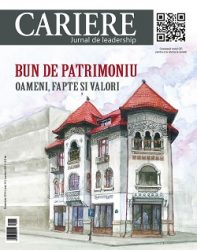 CARIERE no. 262, nov. 2019
Citește-te acum