Descriere
One of the market leaders in Employee Rewards and Benefits is hiring!
Join the great team of this competitive employer (Bucharest offices) and take the opportunity to work in a fulfilling and stable environment.
Role:
Strongly supporting and monitoring proper deployment of the defined internal control methodology across the Romanian entities. In addition, he/she is also actively promoting an internal control environment across the entity and raising risk culture / awareness.
Responsibilities:
Coordinate the Risk assessment process
Manage, support & monitor the periodic risk assessment process;
Evaluate effectiveness of the local Action Plans helping to mitigate main risks;
Consolidate the risk registers at the central level and help to identify new risks for our business.
Contributing to the implementation and the follow-up of procedures and controls
Actively contribute to development of central policies, procedures and internal control matrix;
Update existing and issue new operational guidelines on how to implement existing controls;
Coordinate the implementation of internal controls in the different departments and be the support of departments in terms of methodology ;
Perform internal control testing to support the departments in improving their processes and mitigating their risks;
Report, warn, give recommendations, advising management on the progress in implementing the procedures and controls;
Organize and arrange trainings within the activity to enhance awareness of the internal control methodology and the implementation of specific internal controls;
Promote sharing of the best practices within the Internal Control Community of Romanian entity.
Central administration of the internal control tools
Use actively the Internal Control Share-point ensuring regular update of documents and information;
Use the internal control reporting tool, for the organization and contribute to its further development.
 Ensuring compliance with applicable laws and regulations and third-party guidelines
Report, warn, give recommendations, advising his/her management on the progress in implementing the procedures and controls, on compliance issues and risks and on regulatory evolutions;
Organize and arrange trainings within our entities to enhance awareness on compliance programs.
Ensuring the implementation and the follow-up of procedures and controls specially focused on card operations
Update and enrich existing procedures and control matrix on card operations;
Issue operational guidelines on how to implement the controls;
Coordinate their implementation in the different departments;
Help the departments in implementing action plans and recommendations following the audits;
Organize workshops / trainings on specific topics according to plan.
Representing Internal control in temporary initiatives/projects (for example, Audits, Due diligence activities, implementation of new products/services/ legislation requirements (GDPR – together with Personal Data Protection Legal Counsel), other initiatives managed at the central level).
 Administration
Keeping all our documents and internal controls updated, in line with the Group requirements.
Conceives and delivers any other tasks, actions and projects that may appear in daily activity, not included in this job description, which the hierarchical superior management, departmental or the General Director, considers adequate and assign them to this position, accordingly to the experience, knowledge, abilities and to the enlargement of this job role.
 Requirements:
Studies: Financial or technical (information systems & technologies) graduate (5+)
Minimum of 4-5 years' experience in internal control in a multinational company or in the audit department of a consulting firm working on financial institutions / banks
Pedagogic skills, improvement-driven
Capabilities to work on projects
Good communication skills, used to work with interlocutors at any level of an organization;
Autonomy, tenacity and rigor;
Anticipation and synthesis skills;
Knowledge & understanding of relevant legal & regulatory requirements;
Autonomous, analytical skills, rigorous and attention to details, methodical, persuasive, dynamic, leadership skills;
Strong interpersonal and communication skills, ability to manage, motivate & engage teams and interact with people at all levels of the organization;
Excellent English communication skills on both written & spoken;
Team spirit;
Good organizing sense;
Objectives oriented;
Rigor and attention to details;
Honesty and fairness;
Working under stress.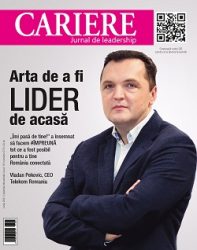 CARIERE no. 272, iunie 2021
Citește-te acum