Descriere
We are looking for a Sales Manager (Italian speaker) to expand the customer base and achieve sales quotas in Italy for our business partner - a multinational integrated windows and doors producer, with over 15 years' experience.
To be successful in this role, you should have previous experience in developing relationships with DIY stores and working with distribution channels while taking accountability for reaching targets. You should also be able to remotely supervise a regional team of salespeople and set profitable goals.
Our ideal candidates combine excellent communication skills, proactivity, and a hands-on approach with a strategic mindset and Italian proficiency.
Ultimately, you will ensure your area of responsibility meets and exceeds the expectations of our business objectives and contributes to our company's success in the long run.
Responsibilities:
Create regional sales plans and quotas in alignment with business objectives
Support DIY Store Managers with day-to-day store operation, claims, and technical aspects
Periodically visit and evaluate DIY stores stocks, merchandise positioning, and shelf presentation as well as individual store performance against budget
Support distribution customers if the regional business requires it
Forecast quarterly and adjust monthly numbers if necessary, to meet budget requirements.
Identify hiring needs, select, and train new salespeople
Prepare and review the annual budget for the area of responsibility
Analyze regional market trends and discover new opportunities for growth
Address potential problems and suggest prompt solutions
Participate in decisions for expansion or acquisition
Suggest new services/products and innovative sales techniques to increase customer satisfaction
Weekly report on regional sales results
All the requirements are listed below:
5+ years of sales experience
Prior experience as a Regional / Country Sales Manager, Area Manager or similar senior sales role
Experience in the building materials industry or related industries is a must
Technical mindset, able to understand and explain complex products; a Civil Engineering degree or similar is an advantage
Strong organizational skills with a problem-solving attitude
A good understanding of DIY store operations and distribution networks
Ability to measure and analyze key performance indicators
Ability to lead and motivate team members
Excellent customer service
Familiarity with CRM software and Microsoft Office, specifically Powerpoint and Excel
Availability for business traveling – around 40% of the time
A valid driving license
Excellent communication skills
Italian proficiency
English proficiency
Alte joburi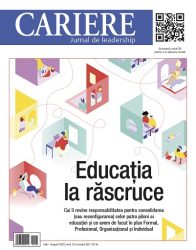 CARIERE, no. 267, august 2020
Citește-te acum