Descriere
Our client is a leading Distributor and Integrator on Romanian market for audio-visual and security & safety solutions.
Excellent start if you are familiar with the AV industry and/or some of our brands Sony, Panasonic, Extron, Mitsubishi, Polycom, Cisco, Infocus, etc.
What You Will Do
Present, promote and sell products/services using solid arguments to existing and prospective customers;
Perform cost-benefit and needs analysis of existing/potential customers to meet their needs;
Establish, develop and maintain positive business and customer relationships;
Reach out to customer leads through cold calling;
Expedite the resolution of customer problems and complaints to maximize satisfaction;
Achieve agreed upon sales targets and outcomes within schedule;
Coordinate sales effort with team members and other departments;
Analyze the territory/market's potential, track sales and status reports;
Supply management with reports on customer needs, problems, interests, competitive activities, and potential for new products and services.
Cerinte:
Requirements:
Proven work experience as a sales representative (1, 2 years) in the same or similar sector;
Excellent knowledge of MS Office;
Willingness to learn the know how of the industry specifics;
Familiarity with Business Relationships Management and Customer Relationships Management practices along with ability to build productive business professional relationships;
Highly motivated and target driven with a proven track record in sales;
Excellent selling, communication and negotiation skills;
Prioritizing, time management and organizational skills;
Ability to create and deliver presentations tailored to the audience needs;
Relationship management skills and openness to feedback;
BS/BA degree or equivalent.
Oferta:
What you will get?
Access to professional inside and abroad training with reputable AV manufacturers;
Fixed salary based on your skills and work experience plus a sales commission based on your results;
Mobile, laptop, auto, etc.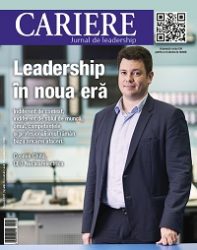 CARIERE, no.273. August 2021
Citește-te acum