Descriere
Needed knowledge (Technical knowledge required by the position):
Technical and functional understanding of SAP Human Capital Management andor Oracle Human Capital Management (configuration is a plus);
Versed in ASAP methodology;
Knowledge of lime operationsindustry a plus.
Needed skills (soft skills required by the position as People management, analytical skills, problem solving,...):
Ability to understand business processes and to express them as systems requirements;
Customer oriented;
Analytical and problem solving skills;
Influencing skills: the ability to sell ideas facilitate a compromise when needed;
Team player, interpersonal skills;
Good verbal and written communication skills;
Strong team skills with the ability to work within the global IT organization;
Willingness to travel to operational facilities (up to 30% travel required) mostly to Belgium or US;
Ability to participate in and facilitate group meetings.
Responsibilities
The technical support specialist is:
1. Accountable for the continued support and implementation of the common processes across the European, American, and for coordination of processes at the global level where appropriate.
2. Accountable for eliminating problems and enhancing systems and processes.
3. Accountable for assisting with training programs and working in conjunction with local management to keep staff at appropriate competency levels.
4. Accountable for achieving and maintaining optimal levels of system use and customer service.
5. Accountable for an efficient interface with the company's IT organization and the business; specifically, between the IT business analysts and the end users for the region.
6. Responsible for being the first-level of help desk support.
7. Responsible for aiding the business in writing statements of work and specifications for the IT Business Analysts.
Major responsibilities
Focuses on HCM processes from beginning to end, introducing innovation into the process that can impact results, enhance profitability and assist the organization to meet its business objectives and goals;
Identifies and reacts in a timely manner to issueschallenges encountered by users;
Achieves and maintains optimal levels of system and process performance;
Liaises with personnel, process owners, Technical Support Specialists of other functional modules and the IT Business Analysts;
Aligns the acceptance and utilization of the systems throughout the organization from senior management through end users;
Always works towards solutions that fall within the current global configuration.
The TSS must attain familiarity of the relevant business processes, SAP and ORACLE implementations and the company' standards set at the global and regional level. They must also become familiar with regional and country specific requirements (statutory reporting, legal or tax changes, etc.). The TSS is a member of the IT organization dedicated to supporting the business, aiding the organization to operate the SAP and ORACLE at peak efficiency, consuming minimum resources, while providing high customer service and satisfaction levels.
We offer:
- a great working environment;
- opportunities to learn and develop;
- a great financial package - between 5000 and 7000 lei net, depending on experience, knowledge and skills plus benefits.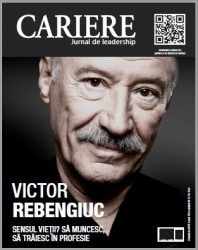 CARIERE no. 261, octombrie 2019
Citește-te acum