Descriere
For our partner, a software company that offers a wide range of technologies and services in the field of cybersecurity, we are looking for Security Consultants to extend their teams.
As a Security Consultant, you will be responsible for analyzing security systems, studying potential breaches, and supervising the implementation of the solution.
Responsibilities
Identify the customer's technical security infrastructure requirements.
Responsible for system security planning, developing, and implementing security policies across multiple platforms.
Monitor/control IT security and technical aspects throughout the IT lifecycle: technical design, development, testing, acceptance
Support and actively contribute to improving security and technical aspects in the IT lifecycle.
Guide on information systems security and IT processes.
Provide written recommendations for improvement and reports regarding IT security and technical matters.
Carrying out and ensuring the necessary controls to meet the legal requirements, regulations, standards, and requirements of Information Security.
Making the daily monitoring of information security and management of alerts, threats, incidents, information security vulnerabilities.
Responsible for proactive security management and good collaboration and coordination with the structures involved.
Responsible for the project management in the area of information security, audits, and involvement in projects carried out by the company to assess the exposure of security risks.
Requirements:
Experience of at least 1+ years in the field of information security / IT
Knowledge of international security legislation and standards.
 Advanced knowledge of English
IT or security certifications are an advantage
Understanding of applications, server, and network security and compliance requirements (including operational requirements needed to be GDPR compliant)
Knowledge and experience with identifying and understanding the most common application security vulnerabilities (OWASP Top 10, MITRE ATT&CK)
Excellent interpersonal, organizational, documentation, and communication skills; able to concisely communicate security risks to both technical and business audiences.
Excellent analytical, organizational, and decision-making skills.
A highly logical, honest, and objective nature.
Good teamwork and time management skills.
If this sounds interesting for you, please apply at [email protected] and le's chat!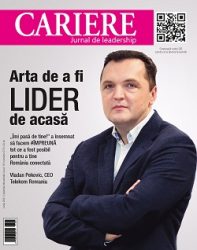 CARIERE no. 272, iunie 2021
Citește-te acum