Descriere
Senior Consultant Engineer  - OHTL up to 500 (750) kV - International Projects
Office Location: Bucuresti/ Romania
The company offers consulting and engineering services in the field of overhead, underground and submarine transmission lines, substations, telecommunications antennas and metal structures.
You will work from the company's headquarters in Bucharest and if you are from Romania or another neighboring country, you can work from your home office.
Requirements:
More than 5 years as Energy / Electrical Consultant Engineer on OHTL International Financed Projects (World Bank, EBRD, AFRD, AFDB);
Strong technical background in transmission lines with nominal voltages up to 500 (750) kV.
Experience on feasibility studies, technical specification, economical and financial analysis,
English and/or french C1/C2 level;
Bachelor/Master Degree, Electric or Energy Engineer;
Practical experience in selection/ design of T/L elements (tower, insulation, grounding etc.);
Good knowledge of international standards (EN, CIGRE, IEEE, ASTM, FIDIC,etc);
Performance software programs experience: PLCS-CADD (USA), TOWER (USA), SPOLE (USA), SAG-SEG (USA), OFFICE 2010 and AUTOCAD 2010.
Responsibilities:
Preparation of technical notes, pre-feasibility and feasibility studies, technical specifications, execution documentation;
Preparation of addresses to the Beneficiary and Contractor, monitoring the implementation of projects;
Travel in the field to check the quality of works, to establish technical solutions; choice of OHL routes;
Preparation of longitudinal profiles, sizing of equipment (insulation chains, earthing sockets);
Elaboration of the geometric schemes of the pillars, load calculations, forces / hypotheses;
Analysis and comments on documents issued by the Contractors;
Business Trips on sites in Africa, Asia, Europa, 20-30 % from activity.
Company offers real challenges, a lot of work, motivating compensation and benefits package and good career development possibilities.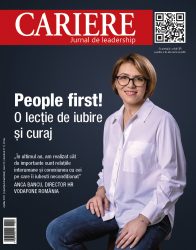 CARIERE no. 271, aprilie 2021
Citește-te acum