Descriere
Profile and requirements
We are looking for top manager profiles who understood management as continuous improvement of strategies, boosting the results and achieving global leadership objectives.
If you:
Are always looking to be better than yesterday, practice self-development and want to be part of a company that promotes agility;
Are an achiever and a believer in both individual and team's success;
Think that our concept is something great for the economy relaunch, by helping supply companies, even more in this new global context;
Think that clearance is a good way to contribute to a sustainable planet by reducing product waste and also give people access to more affordable products;
Like a mix between corporate and entrepreneurship approach, while being passionate about your mission and its impact;
Have a strong background in top management, a brave approach and enough courage to make a difference,
Then we will entrust you the perfect project in areas such as HR, fintech, commercial and others.
We invite you to discover us and judge these rich, surprising and satisfying missions that await your expertise and dedication for yourself.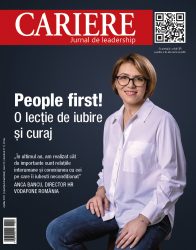 CARIERE no. 271, aprilie 2021
Citește-te acum