Descriere
For our business partner, an international company that offers complete Software Development, Complex infrastructure, Web, Mobile Development and IT Consulting, with highly diversified enterprise projects, we are looking for a talented, professional, and driven Senior Mobile Developer (React Native).
Your role is to work as part of an international development team responsible for the development and upgrade of existing web applications that are compatible with company's preferred technology stack.
COMPENSATION & BENEFITS:
Office Location: Green Gate Office, Tudor Vladimirescu Boulevard, Bucharest;
24 vacation days plus all national holidays;
Medical subscription;
Modern office environment with all the work and play amenities;
Working in a friendly environment with a flexible program;
Working with new technologies on interesting enterprise level projects.
WHILE DOING THIS, YOU WILL
Create innovative mobile solutions to support implementation of business processes by leveraging technology, systems development methodology, and industry standards
Develop (hands-on coding) mobile applications including all phases of the SDLC
Present solutions to project teams and client stakeholders and assist in closing new business
Take full ownership of features and see them through from their inception to deployment
WE ARE LOOKING FOR SOMEBODY WITH: 

A minimum of 5 years of professional experience in Mobile Development (e.g., iOS, Android, React Native, etc.)
Experience with JavaScript, HTML/CSS, and mobile dev tools (React/React Native preferred)
Hands-on experience building an entire end-to-end product as part of a team
Demonstrated ability to take ownership for projects and constantly look for ways to improve
Experience in designing and developing apps focused on user activity flow and user experience
Ability to define the approach, scope, and cost of projects to assist in closing new business
Ability and desire to leverage team members effectively and possibly take a leadership role
Adaptability and willingness to work on a variety of tasks and ability to prioritize
Strong problem-solving skills, communication (written and verbal English), and presentation
BS/MS degree in Computer Science or equivalent experience
A friendly, positive, and flexible attitude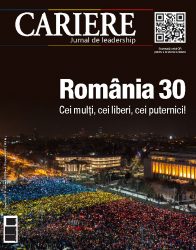 CARIERE no. 263, dec. 2019
Citește-te acum