Description
For our business partner, a diversified global financial markets infrastructure and data business, we are looking for an enthusiastic, passionate Senior Software Engineer to join their team as we strive to deliver excellence to their customers. You're a self-starter who will be part of a ReverseProxy team working on our edge solution of our Desktop Platform Technology assets.
Responsibilities:
 Oversee and take part in the analysis, definition, design, implementation, testing, maintenance and support, working closely with our Quality Engineers and Reliability Engineers to ensure that what we deliver is to a high standard.
Providing the best-inclass solutions by applying consistent development best-practices methodologies and principles covering the full software development lifecycle.
Writes new software, makes modifications to existing software, or integrates software applications and modules in accordance with agreed upon specifications provided by others
Creates and executes unit testing and integration testing ensuring module meets requirements
May provide technical support to operations or other development teams
Makes suggestions for problem solutions or software enhancements, which will typically be reviewed by a more senior developer.
Develops software using disciplined software development processes, adhering to team/company standards and software best practice guidelines, and corporate policies.
Requirements:
Bachelors degree or equivalent in an IT related field
At least 5 years of experience working in software engineering or platform engineering
At least 2 years of experience with Python or another dev language
Experience on critical project with latency & resilience constraints across the world.
Experience in high load, high availability, zero-downtime deployment experience
Experience on OpenSource project and Linux systems
Web: HTTP, TLS, HTTP2.0, Websocket, REST APIs
Servers: Nginx, Apache, Varnish
Deployment pipelines: Jenkins, Gitlab
Linux, Docker containerization
Benefits:
25 days' holiday per year
1 additional day off for your Birthday
Annual wellness allowance
Share Purchase Plan
Medical Health Insurance
Medical Subscription (preventive medical services)
Dental Coverage
Life insurance
Pillar 3 Private Pension
Meal Vouchers
Flexible Benefits
Bookster
Volunteering Events
Team Building.
If this sounds interesting to you, please send your resume to [email protected] and let's have a chat!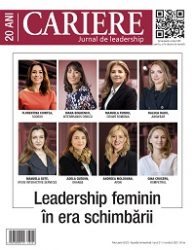 Revista CARIERE, no.282, februarie 2023
CITESTE