Descriere
A brand new Digital Hub located in Bucharest is hiring!
Do you want to be a part of a worldwide team for the international leader in transactional solutions for corporates, employees and merchants? Let us, HR Gold, lead your steps by applying to the following opening: Senior SQL Developer in Bucharest.
The SQL Database Developer is responsible for participating in the design, implementation and support of SQL database systems that support a high availability, high volume enterprise environment. A commitment to collaborative problem solving, sophisticated design, and quality product is essential.
Requirements:
5+ years experience in SQL Development roles with increasing responsibility and complexity;
Bachelor degree;
Solid experience with Microsoft SQL Server 2008 R2 and above;
Familiarity with new features of Microsoft SQL Server (2016+) and ability to implement them;
In-depth knowledge of standard concepts, practices and procedures related to database management;
Experience in Performance Tuning, Query Optimization, using Performance Monitor, SQL Profiler and other related monitoring and troubleshooting tools;
Expertise in SQL Server Integration Services packages and SQL Server Reporting Services;
Advanced level of English (written and spoken).
Nice to have:
Experience with development and deployment on Cloud environment (especially Azure);
Knowledge of High Availability (HA) and Disaster Recovery (DR) options for SQL Server as well as Linux platforms;
Working experience within globally distributed multi-cultural teams and cross-region projects;
.Net programming experience.
Benefits:
Competitive salary package, meal vouchers, holiday vouchers, flexibility on working schedule, training and career development opportunities, performance bonuses, flexible benefits system.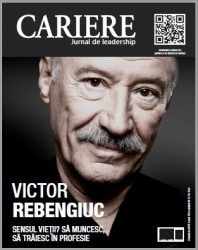 CARIERE no. 261, octombrie 2019
Citește-te acum