Descriere
We are looking for a Senior UX Designer with experience working on digital product, marketing projects and research area to join our growing team in Bucharest.
Contact: [email protected]
www.qlt.ro
Key responsibilities:
Working with product managers, business analysts and a remote development team to create low and high fidelity designs that developers can understand and delight the user.
Visualizing UX thinking using various methods including creating wireframes, prototypes, user flows, user journey maps and personas.
Conducting UX research including usability tests, user interviews, competitor reviews and heuristic evaluations.
Participating in agile rituals with a remote agile product team.
Experience designing web apps
Ability to think on a high level about product strategy and vision.
Must have portfolio highlighting mobile and desktop web design work.
Skills required:
Strong analytical and visual skills, ability to understand problems and express the complexity of them in clear terms to technical and non-technical stakeholders.
Ability to take the initiative, be assertive and think strategically.
Ability to deliver quality in a fast paced environment.
Aptitude for multi-tasking, working to emerging & tight timelines.
Excellent organizational, verbal and written communication skills in both Romanian and English.
Capable of prioritizing and managing your own workload.
Quality focus and attention to detail.
Able to travel to client sites (within Europe) for up to 5 days per month.
Benefits:
Competitive salary.
Flexible working hours.
Access to training materials and courses required to grow your skills.
All expenses paid team events.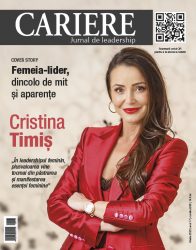 CARIERE no. 265, martie 2020
Citește-te acum