Descriere
For our business partner, the world's leading provider of products and services for individuals with renal diseases, we are seeking a Software Development Manager, with strong leadership skills, to develop cutting-edge software solutions to optimize business operations.
The Software Development Manager is responsible for end-to-end software development and delivery. He/ she is expected to help evolve and define the product features working alongside the various product owners, in enterprise software development and is abreast with related technologies. He/ she is responsible for managing and coordinating resources and processes to make quality & timely deliveries.
Responsibilities
Manages all phases of software development life cycle including scheduling of resources, development of design specifications from business requirements, cost estimation, standards, release management, software change management, and process compliance.
Manage the tactical execution of short- and long-term objectives through the coordination of activities with direct responsibility for results, including costs, methods, and staffing.
Ensures design and development of new software or modification to existing software to meet the company's needs.
 Prioritize, assign, and monitor work progress relative to schedule plans. Adjust levels of work effort and/or schedule exceptions to ensure the integrity of the software development plan.
Ensures software development work satisfies business requirements, complies with approved department procedures and standards, and meets company software quality objectives.
Communicates project progress frequently and effectively to upper managers and team members. Works effectively within the organization to evaluate project results.
Develop work estimates, work breakdown structures, and the project work plan; prepare a consolidated work plan for initiatives that involve multiple related projects.
Provides technical contributions on key programs as required
Contributes to the generation of ideas and potential inventions to be used in new products
Maintain current knowledge with state-of-the-art technologies to ensure the safety and quality of our products
Provide leadership, coaching, and development plans for all direct reports to maintain an engaged and productive workforce.
Requirements
At least 5+ years' software development experience in various languages such as C#, .Net, C++
2+ years of experience as people manager/technical lead of technical teams (Front-End Developers, Back-End Developers, etc.)
Extensive experience in developing, deploying, and integrating software solutions.
Deep understanding of the full software development life cycle, including coding standards, code reviews, source control management, build processes, testing, and driving operational excellence and best practices
Proficiency in documenting processes and monitoring performance metrics
Ability to comprehend and apply principles of advanced math.
Proven experience to interface with customers and marketing to develop and review requirements and plans
Exceptional ability to communicate with leadership, staff, and stakeholders.
Excellent organization and analytical skills.
Fluent in English
Bachelors' Degree in Computer Science, Information Technology
If this sounds interesting for you please send your resume at [email protected] and let's chat!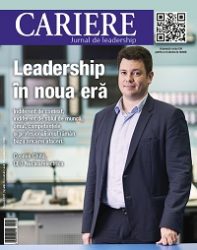 CARIERE, no.273. August 2021
Citește-te acum