Descriere
For our business partner, the leader in Europe in software and services provided for the optical and audio prosthesis industries, we are looking for a skilled Software .Net Developer. We are seeking passionate people who like to get stuff done, who can always focus on the big picture, and are ready to keep learning and improving, no matter how long they've been in the business.
Your Tasks
Conception and implementation of high-quality services with respect to the optical standards
Continuous improvement (guidelines, code review etc.)
Production of documented and tested code (unit and integration)
Improvement of the user experience
Exchange with foreign collaborators
Your skills
At least 2 years experience in object-oriented development
Mastery of programming languages: C#, SQL, JavaScript
Knowledge of frameworks: xUnit.net/ NUnit (priority), EF Core, .NET Core
Knowledge of Scrum methodology
Knowledge in continuous integration systems (Jenkins)
Good interpersonal skills and transparency (working with different teams)
Hardworking and ambitious, able to tackle obstacles in an innovative way
Ability to clearly communicate in English, both verbally and in writing.
Education
Bachelor of Science or Master's in Computer Engineering, Computer Science, Mathematics
If this sounds interesting for you, please send your resume at [email protected] and let's chat!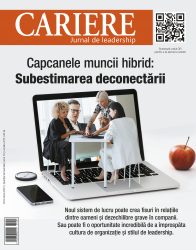 CARIERE, no.274, oct. 2021
Citește-te acum