Descriere
Company description:
World leader providing products in the following areas : time management hardware, software, and services: Information Systems, Time Management Products, Parking Systems, Timing Services.
We are looking for a flexible, responsible, detailed oriented and well-organized software tester to join the team.
Creativity and implication from you are more than welcome. All parties (development, testing, sales, support teams, distributors) are actively providing input and contributing to product development with own ideas.
Open communication, flexibility, being open-minded, sharing ideas and ability to learn fast various IT technologies are key elements in our daily job. You will be involved actively in the testing phase of our development process.
The company  offers support  to  international distributors' customers located in Europe, Africa, and Australia. When asked, you will connect remotely by TeamViewer to customers to fix reported problems, gather additional information about an issue or help with installation and other aspects. This will help  understand the real needs and problems of end customers and improve our software.
Job Requirements:
We expect from you to ensure that quality objectives are being met, maintained and consistently followed. Take the initiative to plan, develop and execute different types of tests as well as create, update and execute test cases and test plans as needed. As all software testers, ensuring that business requirements are mapped to the functional specifications and have sufficient test coverage is one of the challenges you will have.
You must know how to identify bugs in the tested applications, categorize bugs and be able to prioritize your time and workload. The reports of test results must be clear, concise and descriptive. Updating the bug tracking system and verifying the fixes will be part of your daily tasks.
You will work in collaboration with the development team in troubleshooting and resolving issues and you will provide support for our customers using our products.
Are you able to work both independently and together with other team members? Do you like to test web and mobile applications on iOS and Android? Then we might have this opportunity for you.
If this sounds like you, please give us a sign.
Basic Qualifications:
2-3 year experience in manual/automated software testing for Web and Mobile (iOS and Android) applications;
Good English communication skills both written and verbal
Bachelor degree in Computer Science or other relevant (IT connected)specializations
A relentless learner with a dedication to learning new technologies and testmethods
Self-driven and innovative to drive continuous improvements in the Testprocess
Knowledge of SQL and agile software development methods would be a plus
Net income: 800- 1100 EUR / MONTH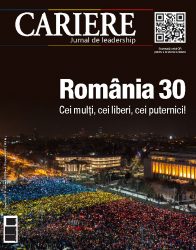 CARIERE no. 263, dec. 2019
Citește-te acum