Descriere
For our client, we are searching for a Start to Code Mentor – project based.
Our client is a forerunner in the field of performance education with over 5 years of experience training young minds in tech fields. The company's mission is to create sustainable growth nationwide, through performance education and next-level strategic entrepreneurship.
Responsibilities:
Developing the curricula & key learning objectives for the IT Literacy Track;
Gathering all the necessary materials & information to ensure the most relevant content for the program;
Helping create the sequence of the content & timeline to be presented to the mentees to best assimilate the knowledge (focused progress sessions);
Delivering the content using Remote Digital Education Model (RDEM), making use of all the necessary platforms;
Providing guidance and constant feedback to the participants, making sure they stay engaged in their learning process;
Working with the other teams to determine best practices in terms of learning and adapt them to best fit the training needs.
Requirements:
HTML, Javascript, PHP – advanced knowledge;
Advanced English skills;
Training/Teaching Expertise - previous experience in teaching or delivering IT training;
Moderation skills – the ability to guide the discussions;
Explanation skills - present the subjects matter in a simplified form and make it acquirable;
Presentation skills;
Assertive and resilient person;
Should prefer a hands-on environment;
Passion for innovation in terms of delivering content and learning strategies.
Context:
The RDEM model is a learning methodology created by our client, where all learning takes place in a virtual environment and is highly conducive to progress, as it employs a medium that is appealing to and sought-out by current generations, all while relying on community support, influence and discipline to drive development.
RDEM implies alternating short periods of theoretical learning with numerous burst practice sessions, where participants can directly apply their accrued knowledge. This model borrows from tech companies' continuous integration strategies – it places a lot of emphasis on an on-going evaluation of the participant, both 1-to-1 with the mentor, and 1-to-many, within the community.
This process takes place online, remotely, using web applications capable of video conferencing, update communication, instant communication, etc. (all the necessary tools are already in place).
For those interested in this position, we are looking forward to receiving your CVs at [email protected]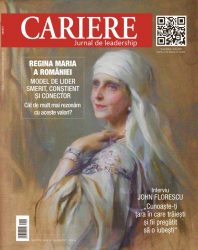 CARIERE no. 257, mai 2019
Citește-te acum