Descriere
A brand new Digital Hub located in Bucharest is hiring! Do you want to be a part of a worldwide team for the international leader in transactional solutions for corporates, employees and merchants? Let us, HR Gold, lead your steps by applying to the following opening: Support Developer in Bucharest.
Job description and key responsibilities:
The Support Developer is responsible of 5 main activities:
1. Analyze application logs and alert
Goal: Monitor application logs and performance
Main activities: Daily checks, Contact dev. team if needed, Contact business 1st line if needed
Deliverables: Bug analyze, Bug tracking
Skills: Communication, proactive mindset
2. Analyze and report customer issues
Goal: Understand the business process that is not working as expected
Main activities: Contact Business 1st line to understand the issue, Analyze the issue, Report the issue to the development team
Deliverables: Bug analyze, Bug tracking
Skills: Communication, Splunk, JSON, Java
3. Recurring meetings with business 1st line
Goal: Report progress on current bug fixing
Main activities: Follow the development team activities to inform the business 1st line of the current progress
Deliverables: Report on open bugs, Meeting notes
Skills: Communication, understanding of business needs, fluent English
4. Assist business 1st line with Production parameterization
Goal: Do some configuration changes on the application
Main activities: Ensure that the requested configuration changes are correct, Test the new configuration, and Follow the deployment of the new configuration
Deliverables: Change management ticket and follow up
Skills: Rigorous testing skills, understanding of business needs, ability to work with other teams
5. Assist operation teams
Goal: Assist operation teams when deploying a new release
Main activities: Provide Operation with a complete runbook of the process, validate each step of the deployment, test the deployment, Communicate tests result
Deliverables: Test plan, Deployment validation
Skills: Rigorous testing skills, ability to work with other teams
Reporting line:
The support developer will report to the Front Office support Lead.
The support developer will also have meetings with business 1st Line across operated countries.
Candidates will also have to demonstrate:
• Good communication skills, listening & understanding;
• Good teamwork;
• Solution oriented and customer focus;
• Able to work in a fast-paced environment, including prioritizing and multi-tasking while paying close attention to detail;
• Must be able to quickly assess issues and react to changing circumstances and new information;
• English fluent;
• Proven experience in Java, knowledge in API development or support is a plus.
Benefits:
Competitive salary package, meal vouchers, holiday vouchers, flexibility on working schedule, training and career development opportunities, performance bonuses, flexible benefits system.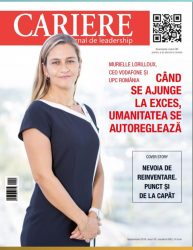 CARIERE no. 260, septembrie 2019
Citește-te acum