Description
For our business partner, a company offering some of the best customized professional consultancy services specialized in information security as well as project and strategy management, we are looking for a System Operations Engineer.
You will be responsible to identify the best and most cost-effective solution, to ensure success and adequate delivery to customers, ranging from hardware installations to software configurations, fine-tuning, and troubleshooting.
Responsibilities:
Actively participate and coordinate analysis, design, and implementation phases of IT projects;
Write and Review specific, IT related, documentation concerning IT projects;
Guide team members, in order to ensure that knowledge transfer is made in a timely manner and that the team's general skill level increases over time.
Develop, conclude and run test scenarios for various functionalities (both hardware and software);
Perform installation and maintenance activities, based on the technologies/professional requirements mentioned below;
Plan and manage end-to-end the implementation process;
Efficiently communicate with the client's representatives during various stages of the implementation process;
Requirements:
Experience in configuring security software (SIEM, DLP, etc.) is necessary;
Experience in configuring, managing, and deploying Dockers containers and Kubernetes clusters is mandatory;
Experience in managing cloud architecture, mainly AWS, is mandatory;
At least 2+ years in a similar position;
Good system administration and management skills (Linux OS & daemons configuration, etc.);
Good networking skills (switches, routers, load balancing, firewall, etc.);
Experience in configuring and managing virtualization environment (VMware/OVM) is a plus;
Experience in configuring and managing Elasticsearch, Logstash, and Kibana (ELK) clusters or Grafana/Prometheus clusters is a plus;
Scripting skills;
Very good English language skills.
Benefits:
Individual career path - personal training on the maintained technologies; management and technical career growth, enhanced by learning and development program; personal certification plan paid by the company and great source of technical articles and support information;
Bookster subscription;
Psychological counseling sessions through the company collaboration with a psychological office in Bucharest;
Virtual library of soft skills training in several areas;
Strong company culture and a great team of skilled colleagues; strong team spirit with multiple initiatives involved.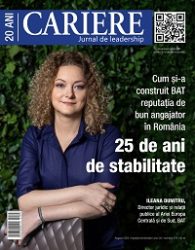 REVISTA CARIERE, NO. 279, AUGUST 2022
CITESTE