Descriere
Technical BI Consultant
Join our partner Engineering Team in Bucharest, and become a member of their open-minded, progressive and professional team. Our business partner is a global leading technology provider that offers complete Software Development, Web, Mobile Development and IT Consulting, with highly diversified enterprise projects.
Compensation & Benefits:
• Office Location: Green Gate Office, Tudor Vladimirescu Boulevard, Bucharest;
• 24 vacation days plus all national holidays;
• Medical subscription;
• Modern office environment with all the work and play amenities;
• Working in a friendly environment with a flexible program;
• Working with new technologies on interesting enterprise level projects.
Responsibilities
You will work as part of an engineering team responsible for the extraction of raw data from Operational WMS and T&A Systems to feed into a European Data Lake. This data lake will be the EU Platform for presentation in the Labour Productivity Solution.
Requirements
• University degree in either Computer Science, Computer Engineering, Information Technology Management is required;            • Previous experience of +3 years working as a BI Consultant;
• ETL -Streaming, batch processing;
• Strong Kafka/Beam knowledge;
• Oracle /SQL Server/DB2; • Strong PL/SQL /T-SQL;                              • Excellent analytical and problem-solving skills;                                        • Experience in requirements gathering, specification, development planning & management;                                                                                 • Excellent written and verbal communication skills;                                 • An aptitude and desire for learning new technologies;                           • Very high level of written and verbal English;
• Strong database development skills;
• Technical documentation;                                                                             • Support.
Nice to have
• Oracle GoldenGate;
• CDC skills;
• Big data;
• Knowledge of Logistics Warehouse operations;
• Google Cloud skills.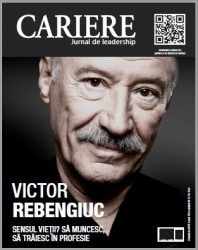 CARIERE no. 261, octombrie 2019
Citește-te acum