Descriere
The position of Trade Strategic Insights Manager is responsible for providing strategic insights on consumer & trade marketing research data as well as data analysis for formulating portfolio, brand, trade, and distribution strategies. He/she will manage research projects and relationship with research agencies and will ensure in-time and quality delivery of all data sets/information.
Major Task Responsibilities and Key Accountabilities:
Data analysis and information – internal: work in close collaboration with Marketing and Sales Teams in order to ensure that M&S function's information needs (data, intelligence and technical applications) are delivered in a timely manner;
Provide optimal support for decision process, as well as support for management presentations in various occasions: ASP, TDT, market visits, business reviews;
Ad-hoc Trade projects: Manage trade research suppliers and ad-hoc trade research projects (briefing, supervising the implementation – field visits - analysis, reporting), in order to provide in time, high quality, relevant and actionable data and information;
On-going Trade projects: Initiate, develop and ensure accuracy of on-going regular reports at all levels, with appropriate approval for Regional and HQ ones;
Release summaries reflecting key market/trade trends to better support M&S business;
Manage research suppliers to deliver in-time and high quality service;
Trade Trends identifier: Manage qualitative and quantitative data sources at best to identify and report short terms and emerging medium to long-term trends on market regarding consumer behavior in trade environment;
Market Analysis and Knowledge cascade: aggregate data from different sources (Shipments, Retail Audit, Illicit Trade, Tracker, Pricing studies, ad-hoc consumer/trade research, financial/economy reports, media, statistics) to enable the best possible understanding of market/consumer/trade dynamics;
Cost monitoring: input and follow-up research funds allocation to research projects and ensure research spends recording (SAP).
Facilitate negotiation of the best prices without compromising on the data quality while selecting and recommending suppliers.
Preferred Job Qualifications:
University degree (required);
At least 3 year of experience within a marketing research department in multinational company or in similar positions within a marketing research agency;
Additional requirements: experience in retail audit, trade monitoring, price studies, good background in retail audit analysis (consumer analysis is a plus); experience of trade research project management;
Familiar with at least one DB specific software (SPSS, retail audit);
Practical application of research to support business decision process;
Consumer / trade trends monitoring; Competitive intelligence / assessment;
Market research project management skills - market research (trade) on all levels (briefing, fieldwork, data analysis, reporting);
Consumer, shopper and trade insights, ability to identify and extract actionable conclusions and insights;
Strong analytical skills, ability to work with large quantity of information (analysis, systematization);
Advanced PC skills: MS Office, SPSS;
Fluency in English, written and spoken.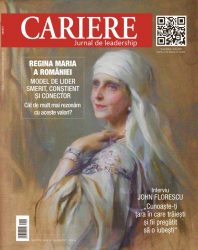 CARIERE no. 257, mai 2019
Citește-te acum