Audi and Google are winning combination at Telematics Awards 2010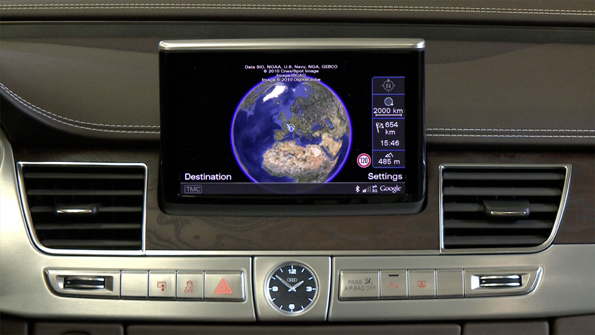 Audi and Google are the winners of the "Best Embedded Telematics Navigation Product" award at the Telematics Awards 2010.
The MMI navigation system in the new Audi A8 luxury sedan is available with a variety of Google services and information via the Internet.
These include Google Earth, which has been integrated into an automotive navigation system as a world first. The Telematics Awards, which are now in their ninth year, were organized by Telematics Update and were determined by an independent jury of experts. In the "Best Embedded Telematics Navigation Product" category there were ten products competing for the award. The awards were announced and presented at a ceremony in Dearborn in the USA.
The user can search online with Google for points-of-interest directly from within the MMI. The versatile search engine accepts such free text search queries as "delicatessen" or "shoe boutique". The results are then displayed on the onboard map or used as destinations for route calculation. The fast data transfer of the UMTS module has allowed Audi to set a world first with the integration of Google Earth in the MMI navigation plus. Google Earth imagery and a 3D terrain model are combined with the detailed street network from the onboard navigation database as well as calculated routes in a seamless integration of online and offline content.
The new Audi A8 is also the first car in the world to offer an optional factory installed WLAN hotspot for wireless Internet access. Passengers in the front and rear can simultaneously access the Internet through the car's integrated WLAN module and via UMTS, using up to eight terminal devices such as laptops, Apple iPads or netbooks.
The Audi Group sold around 950,000 cars of the Audi brand in 2009. The Company posted revenue of €29.8 billion and an operating profit of €1.6 billion. Audi produces vehicles in Ingolstadt and Neckarsulm (Germany), Györ (Hungary), Changchun (China) and Brussels (Belgium). Aurangabad in India saw the start of CKD production of the Audi A6 at the end of 2007 and of the Audi A4 in early October 2008.
Production of the new Audi A1 has been running at the Brussels plant since May 2010.