On November 7, Bucharest Set the Stage for BACK2BUSINESS International Networking Event
The BACK2BUSINESS International Networking Event, hosted on November 7 at the prestigious Pentagon Events Center in Bucharest and organized by Dynamic Business Connections, concluded with remarkable success, echoing a vibrant synergy among global business communities.
With over 450 esteemed guests from diverse business sectors, embassies, trade missions, the event marked a milestone in international business networking. A key factor to this success was the unwavering support from 14 chambers of commerce and 9 business associations, including: Association of Spanish Companies in Romania – ASEMER, Belgian Luxembourg Romanian Moldovan Chamber of Commerce, Romanian Portuguese Chamber of Commerce, British Romanian Chamber of Commerce, Bilateral Chamber of Commerce Bulgaria-Romania, Netherlands-Romanian Chamber of Commerce (NRCC), Hellenic Romanian Bilateral Chamber of Commerce, CCE-R | , Swiss Chamber of Commerce in Romania, Canadian Business Association (CBEX), CCI Française en Roumanie, Hungarian Business Association in Romania (HBAR), Danish Romanian Business Association (DRBA), Camera di Commercio Italiana per la Romania (CCIpR), Romanian Diversity Chamber of Commerce, PWN Romania, OFA UGIR, Supreme Council of European Business, HR UP Group, EMCC, CIO Council Romania, Property Forum, and SPACES.
H.E. Mr. Uffe A. Balslev, Ambassador of the Kingdom of Denmark in Bucharest, and Mr. Leopold Abibo Lomalisa, Chargé d'Affaires of the Democratic Republic of Congo in Romania elevated the event's international importance and welcomed the guests along with key-note speakers, highly respected representatives from Romania and abroad: Mr. Adel Al Awadhi, a long standing Board Member and Ambassador of BACK 2 BUSINESS International, Mr. Alexandru Petrescu, President ANRM, Mrs. Mirabela Miron, President of OFA-UGIR, and Mr. Doru Dragomir, President of the Bilateral Chamber of Commerce Romania-Bulgaria. Ms. Farah London, the founder of BACK2BUSINESS International sent a congratulations message to all the participants, unveiling part of the global agenda of the project for 2024.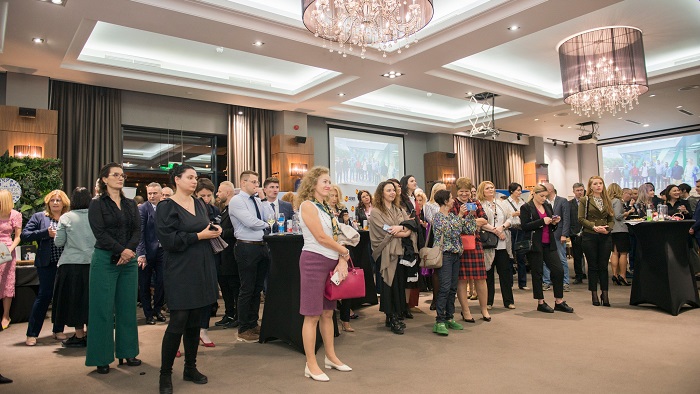 We were extremely honoured to have two impressive and inspiring key-note speakers: Mrs. Cristina Chiriac, President of CONAF and Ms. Mirela Sula, Director of Global Woman Summit, whose commitment to empowering women leaders and creating a multicultural and impactful business community added value to the event. Our heartfelt appreciation goes to our Iincredible event moderators, Ms. Ximena Reyer, Intercultural Trainer and Dr. Bogdan Ivănescu, Founder of Clinica Dr. MiT.
This years edition brought together a mixt business panel, moderated by Mrs. Cristina Turnagiu Dragna, Entrepreneur & General Producer at Canal 33, ensuring new business perspectives for 2024 from highly-qualified and respected professionals, like: Mr. Adrian Victor Vevera, Director General of ICI, Ms. Roxana Ilinca, General Manager of TMF Group, Ms. Ileana Violeta Botez, Head of Listing Department & Coordinator of Fluent in Finance seminars at Bursa de Valori Bucuresti, Mr. Bogdan Pleșuvescu, Deputy Chief Executive Officer and Chief Legal Officer in Banca Transilvania and Mr. Cătălin Guriță – Manole, Director WIN Gallery.
"We are delighted to announce the resounding success of our Back 2 Business event. This gathering proved to be an extraordinary platform for professionals across various industries to engage in meaningful conversations and establish valuable connections. We were honored to host a diverse group of passionate individuals, all eager to collaborate and share their enthusiasm. We are already looking forward to the next edition" – Crina Diculescu, Founder of Dynamic Business Connections and Global Marketing Director BACK2BUSINESS International.
"Our event was enriched with informative sessions and thought-provoking discussions, focusing on the current business landscape and the emerging opportunities. The insights shared by our keynote speakers were particularly impactful in today's challenging business environment. Our heartfelt thanks go out to everyone who contributed to making this event a memorable and impactful experience. We look forward to even greater achievements in international business networking." – Cristiana Pătru, Global Business Development Director, Dynamic Business Connections and BACK2BUSINESS International.