Descriere
Main Role:
The Sales Manager Industrial must have focus and improve market share on direct selling to Industrial end users and Specialized Distributors. Examples: Steel, Food, Power, Mining, Metalworking and Synthetic Maintenance Lubes.)  This role is divided towards managing existing accounts and identifying new potential clients. This is an engineering sales role that will may require support to develop detailed specifications and projects to sell to new and existing users, thereby extending the current range of products and/or applications.
 Main Responsibilities:
Achieve sales districts business growth and profitability objectives as set by the General Manager;
Develop new business, as well as, new customers and you are a real business partner for your current key account customers;
Determine short and long term sales development strategy with respect to direct sales and market share;
Support the launch of key offerings within the region, building a comprehensive value proposition of products, services and technical solutions;
Define sales strategy with the key partners within the allocated area;
Maintains relationships with clients by providing support, information, and guidance; researching and recommending new opportunities; recommending profit, service improvements and technical solutions;
Identify and develop new profitable business opportunities;
Analyze the local market, monitor the competition and maintain current knowledge of the company's products;
Participate in industry exhibitions and seminars;
Successfully promote the company image.
 Requirements, Qualifications and Selection Criteria:
University degree (industrial, technical degree being highly desirable);
Minimum 3 years of sales experience in business-to-business market and/or industrial solutions field within a notable national / international company;
Successful track record in sales, account management and in business development;
Ability to identify and extract actionable conclusions and insights;
Strong analytical skills, attention to detail and ability to identify and solve problems;
Entrepreneurial profile with a high level of self-motivation, business oriented person;
Enthusiastic and ambitious, ability to work independently;
Very good negotiation, communication and presentation skills;
Stress tolerance, flexibility and adaptability;
Team player and strong interpersonal skills;
Excellent English language.
REF.CODE: SM_IND_L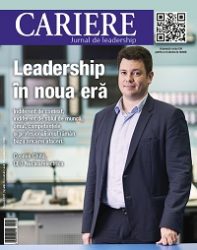 CARIERE, no.273. August 2021
Citește-te acum