Lluis Martinez-Ribes on Brain Pleasing Marketing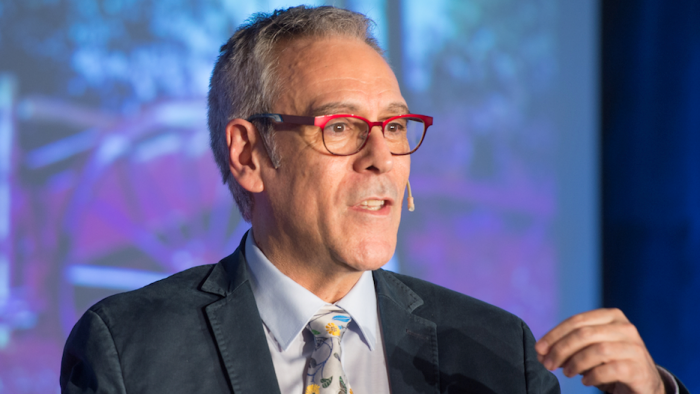 Lluis Martinez-Ribes is a Brain-Pleasing Marketing Catalyst at Esade Business School in Barcelona.
Listening to Lluis is a joy, because he has meaningful information to share and he does it in a high-spirited and inspiring way. We spoke about creating sustained customer preference for your brand, about brain pleasing, how people make decisions, we talked about emotions, sentiments and the role they play in neuromarketing, and Lluis pointed out the difference between best practices and next practices.
What thrills you, these days?
I love to keep an eye out for any change or transformation taking place around me: going to the museum, noticing people's new purchasing habits in the supermarket, etc. All these are sources of inspiration that could have an impact in tomorrow's society.
Sometimes small changes lead to relevant social transformations. Do you remember when the first iPhone was launched, in 2007? We could not have imagined that putting our fingers on a screen – instead of using a keyboard – would change peoples' lives in such a way!
How do you stay aware in a world of so rapid, profound and constant changes?
In today's world, being up to date is a real challenge. I have come to the conclusion that it is just not possible to stay aware of everything and there is one thing I know for sure: it is better to focus on some specific areas of knowledge and study them in depth, rather than try to cover everything. I always say that strategy is a denial exercise, and I put this idea into practice both in my professional and personal life.
What are the dangers of best practices and the joy of next practices?
When a company relies on best practices, this means that they are focused in tracking competitors. However, companies do not compete against anyone, they compete for someone: the customer. The company that is able to provide the best solution to the customers – by improving a specific area of their life – will be preferred by them.
By following best practices, you will achieve some improvements. However, if a manager or a company wants to become a leader, it is not enough to copy & paste best practices. It is necessary to go beyond that and look for a real innovation that contributes to the improvement of customers' life. Think about this: air conditioning did not result from a 'best practice' about the 'ideal fan'.
To put it in one sentence: It's OK to be market driven, but it's better to drive the market.
How is the customer changing? What pleases the brain of the future?
We live in a society that is 'liquid' – in the words of the sociologist Zygmunt Bauman – and info-xicated – information polluted, to use Adolf Cornella's term. This means that life is full of uncertainty, people are overwhelmed by the great number of stimuli that they are constantly receiving and feel busier than ever before.
My feeling is that the brain-pleasing solutions are – and will be – those that reduce stress, anxiety and uncertainty. For example, this can be achieved by offering personalised solutions to the customers or reducing their efforts, including the cognitive ones.
Speak to us about the difference about emotion and sentiment and their impact on customers.
Generally speaking, a sentiment is much deeper than an emotion. An emotion is only felt for a short period of time (usually a few seconds), whereas a sentiment is long-lasting. To put it differently, while changing from one emotion to another quite fast is possible, a sentiment, once created, is more difficult to change.
If customers experience a positive sentiment with a brand or product, they will be loyal to it. As you can imagine, to achieve the continuous customers' loyalty, it is first necessary to raise their attention and interest by triggering a specific emotion in them. The repetition or the sequence of positive emotions will lead to the creation of a habit and, therefore, to the desired sentiment connection.
In the article Brain-Pleasing Branding I explain in more detail the importance of distinguishing between emotion and sentiment, and how to create this sentiment towards a given brand.
How does one get from describing the customer to understanding the customer?
Descriptions tend to be superficial (example, women of this age, living in a city, with a given income, etc.). It's quite tough to create a deep brain-pleasing marketing with such approach.
Managers should be experts in understanding the customers' context, needs and profile. What matters is to offer a solution that is useful to a specific customer.
The context is the most important variable. It influences – or even determines – the way people live, their behaviour, sensitivities, and sometimes even their fears and passions. In this sense, customers change when their context changes.
What inspires you? What brings you joy?
As a marketing catalyst, I have the opportunity to work with true change-makers from relevant companies and different countries. In these projects we team up and share knowledge, methods, and competencies. It is great to be inspired by people who share their challenges and passions with you.
Of course, when these Game Changers call me after some time to express their happiness and gratitude for the things that we have accomplished together, this is a source of great joy!
You say that in order to serve consumers effectively, the marketer has to fulfill three main roles: he must be a Philosopher, an Engineer and a Screenwriter. What is your favourite role? Which of these three roles do you think makes one a good leader?
The three roles are complementary and necessary: they are different stages of the same process. From my point of view, it is not the role per se that makes someone a good leader, but one's attitude. I think that a good leader must play these three roles with a great empathy not only with the customers, but also with the co-workers. In the real business practice, 'internal customers' are more important than external customers.
What do you love most about your job? How has your work added value to you, as a human being?
Helping improve the quality of people's lives in certain moments, for example, when purchasing. This is my passion and my purpose, what makes me get out of bed every day. I am lucky to contribute to this through my job.
What has life taught you about yourself that you cherish and go back to, for strength and inspiration?
Life has taught me the importance of being open to the new things and being able to adapt to them. Let me be more specific. I have been working in the marketing field for more than 40 years. Some years ago, not so long ago, I started to get into neuroscience, and I learnt that most of our decisions are made non-consciously. This, of course, changed my professional life completely. I had to unlearn, and then reframe my job. Now I feel very pleased of having faced such challenge.
I think that this attitude is useful, because what I perceive as obvious today, tomorrow could be different. And I have to keep myself receptive and flexible in order to be able to adapt to it.
Is there a piece of advice you like to offer to young people?
I suggest that they take every opportunity they get to explore, to dare to think differently leaving behind the idea of "I will do it like this because it has always been done this way", and, ultimately, to empower themselves as much as they can. They are the best brand they can build up.