LUISS University – an utterly unique experience, an innovative and sophisticated approach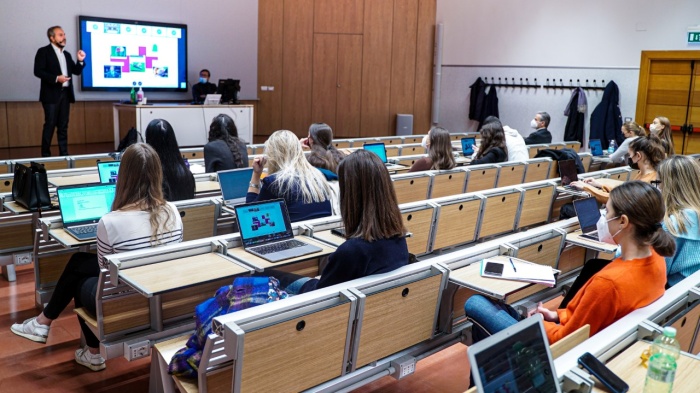 83 international partnerships
19 research centres, observatories and laboratories assisting with the performance of studies on social sciences in fields such as: economics, history, political science, sociology, political theory, the theory of governmental and public organisations, law and management
The core programme comes from 15 different countries and is comprised of a dynamic range of professors and practitioners such as executives, diplomats and representatives of the public administration, a diverse group of educators taking pride in teaching students how to become the shapers of tomorrow, by approaching the complex aspects of the post-pandemic and digital era
A global reputation proven by the impressive community of graduates operating in various sectors around the world, as well as the number of students enrolled, of over 85 nationalities
300 agreements signed with over 60 countries around the world
4 fields of study: Economics and Finance, Business and Management, Law and Political Sciences
58 international publications in 2020 alone
Furthermore, 14 grants awarded, also in 2020
All these are results securing it a place at the top of higher education institutions, as proven by its inclusion in the QS World Rankings Top 50 universities for politics and international studies.
In brief, this is a possible depiction of LUISS – the Free International University of Social Studies Guido Carli, a higher education institution recognised abroad for its innovative and sophisticated educational approach, through modern, diverse academic programmes in Italian and in English, and through additional educational activities preparing students for the global labour market.
In fact, year after year Luiss continues to climb the ranking of 956 universities around the world and is among the Top 30 most sustainable universities.
The University has reached the 22nd position worldwide, compared to 43rd in 2020, confirming itself as the second university worldwide, and the first in Italy, in the "Energy and Climate Change" category.
In the past five years, Luiss University has accelerated its internationalisation process, first in the Euro-Mediterranean region (Europe and MENA – the Middle East and North Africa), where it is a higher education hub, and recently in Central and South Africa and South-East Asia. Luiss University students have understood that this progress is a consequence of upgrading the learning environment, of the involvement of more international professors and students and of globally-oriented programmes.
The educational model
Luiss University is an international university specialising in the social science field, providing a learning environment characterised by diversity and based on entrepreneurship, responsibility and sustainability. With an advanced training model, prestigious professors and a solid international network, the university has developed privileged relationships with the business community and public institutions, by affiliation to Confindustria, the General Confederation of Italian Industry, as well as to law firms, governmental institutions and civil society. Also, it has special relations with European and Italian institutions, thanks to the numerous faculty members who have operated within it. The educational model combines academic thoroughness and practical relevance, focusing on the following: research, experience-orientation, problem-solving.
On-live, a programme revolutionising online learning
Luiss University has launched a series of online programmes with a new ethos, described as "on-live". According to Luiss University Rector Andrea Prencipe, the programmes revolutionise online learning because, as opposed to online courses, the "on-live" experience will not be an isolated one, but the result of team work and student-oriented. The essential aspect of the on-live method consists in team work and a combination of synchronous and asynchronous teaching techniques, which allows flexibility and compatibility with other commitments, at the same time undergoing ongoing assessment. As part of this dual approach, professors, practitioners and students can work in real time, as well as have the opportunity to absorb the content of asynchronous models at their own pace. As part of the on-live experience, students can also attend virtual internships.
It is key to highlight that Luiss University's approach on learning is focused on interdisciplinarity, considering that challenges cannot be solved by using solely the tools provided by one discipline alone. This gives students a comprehensive vision of how to solve problems in a more and more complex business context. This complex orientation towards projects and research, team work and the synchronous and asynchronous learning of students makes the learning experience at the Luiss University absolutely unique.
Being a student in Rome
During the last years, more and more Romanian high school and faculty graduates have chosen to further their studies abroad. High-quality education, the international certification of competences, cultural experiences and easier access to the global market are only some of the advantages of making such a decision.
In addition to the uniqueness of its education model, Luiss University's other advantage lies in the beauty of the city where it is located – Rome, as well as of the buildings where it is hosted. Rome is often times called the Eternal City, with a history spanning over more than 28 centuries, which makes it a historical marvel. Plus, it provides excellent travel connections, a temperate Mediterranean climate and intense urban energy. Life in Rome is safe, especially if we speak about the areas in the vicinity of Luiss University, the city's extrovert inhabitants famous for their style, their love of football and their world-famous cuisine, with its lovely restaurants and cafes just around the corner. The architecture of university buildings reflects the various movements in Rome's artistic history, adorned by lush gardens that provide an oasis in the busy capital. This physical uniqueness is reflected on a virtual level, to offer a humanistic approach to the digital era of education.
Italy, 2nd place in the top of preferences of students
Based on data gathered from UNESCO and EDUCATIVA reports, EDMUNDO (a free service of the EDUCATIVA Group, which provides young Romanians with information, advice and assistance concerning admission to higher education institution in Europe, Asia, USA and Canada) has chosen 12 education destinations across the world preferred by the Romanian youth. This has allowed us to draw up a ranking of the most preferred international education destinations.
According to Edmundo, Italy (ranking 2nd in the list of preferences after Great Britain) is a popular destination among international students, as it provides quality higher education, universities included in international rankings and more affordable tuition fees than in many other Western European countries.
Furthermore, Italy was one of the 4 countries which originally implemented the Bologna Process, a higher education reform now applied all over Europe. For these reasons, and not only, around 32,000 international students are enrolled at this Italian university, including independent and exchange students.
According to Edmundo, "Luiss provides an innovative and sophisticated educational approach. To study at Luiss is to interact with highly qualified world lecturers, from the business world and the academia alike. It means being able to choose from several modern, diverse academic programmes completed by additional educational activities that will help you be prepared for the labour market. Furthermore, you'll have the opportunity to study and do internships abroad, thanks to the Career Service Office which, based on the solid relationship with the companies, supports students until they are able to find a job." This is confirmed by the university internal data, which show that the average Luiss graduate is hired 2-3 months after graduation.
Photo: Facebook