"To develop learning solutions that are highly personal and customized is the biggest challenge"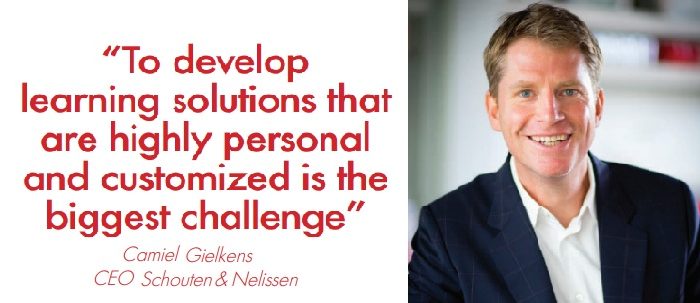 Schouten & Nelissen will enter the Romanian market by integrating the local company Focus Plus. CEO Camiel Gielkens talks about the opportunities the company saw in Romania and how innovative their products will be.
WHY DID YOU CONSIDER ENTERING THE ROMANIAN MARKET THIS YEAR SPECIFICALLY? WE WERE WONDERING BECAUSE IN POLAND SCHOUTEN GLOBAL ENTERED 20 YEARS AGO.
From our start it has been our strategy to work with our clients where they need us. Together with key clients we have worked in Romania and with our colleagues from Focus Plus for several years and with great success. Growing demands from our clients in Romania have led to the decision to bring this relationship with Focus Plus to the next level.
HOW DO YOU SEE THE DEVELOPMENT ON THIS MARKET?
We are very positive about our future in Romania. We operate in a world that is highly complex and very uncertain. Working with many organizations around the world taught me that it is so important to be able to really understand your business environment and the challenges your customers have, be able to develop a vision that inspires and sets direction and be able to achieve a killer achievement together. And soft skills are crucial in achieving that. We work with organizations and their employees to realize exactly that and ensure they have better results, innovate more and are a great place to work.
What we see in Romania are a lot of young people who are eager to grasp the opportunities they see and are very eager to develop the necessary skills and attitude to make it happen. And we see a lot of organizations with high ambitions to grow in Romania and also internationally who look for new organizational set ups and skills that will help them to make the next step. In a fast-changing market like Romania it is impossible to make all decisions from the top. It so important to develop leaders at all levels of the organization who can take responsibility and drive business. This means top leaders need to be good managers and coaches. Both lead and create space for others to take the lead; become more agile and quick. More and more organizations in Romania want to invest in those kinds of skills and are investing in people development in general.
EVEN IF YOU COLLABORATE WITH HUNDREDS OF SPECIALISTS IN OVER 60 COUNTRIES, YOU HAVE OFFICES IN A COUPLE OF COUNTRIES IN VERY DIFFERENT AREAS? WHAT IS THE STRATEGY BEHIND THIS DECISION?
Our strategy focusses on clients and work with them where they need us. So, our offices are more a platform to support our clients globally and deliver value. They focus less on sales or marketing in their specific regions. This way we can support our clients where needed, but we are also agile.
WHAT WAS THE PROCESS OF INTEGRATING FOCUS PLUS? IS IT IN THE COMPANY'S POLICY TO INTEGRATE A BUSINESS PRESENT ON A LOCAL MARKET?
We have been working together for several years already. During this journey we discovered we share a lot of the same values: helping people and organizations to perform at their best by focussing on what they are good at and achieve things together they could never have dreamt of. We both have an extreme commitment to delivering more than we promised. And we both keep learning and innovating. In addition…
To read about their most innovative programs and what the company will bring new on the local market, go to hrmanageronline.ro