27th of September 2019, Capital Plaza Hotel, Bucharest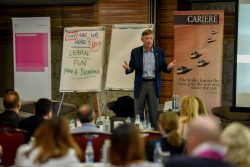 We all have skills, talents and higher potential within us.
Would you like to access your natural innovation genius to fulfill your potential and upgrade your career and life?
In this spirit I am delighted to offer you the opportunity to join me for an engaging and enjoyable Innovation Masterclass. I will provide you with a set of uniquely powerful tools and processes for personal and professional growth and transformation. You'll learn how to ignite and sustain innovation in your life and map the best path to get from wherever you are today to where you're meant to be. I will guide you to unlock the golden door to your innovation genius and light up the runway to your higher potential in life and work. You will:
Align and strengthen the cornerstones of real innovation: your mindset, creativity, health & relationships.
Learn & practice simple, powerful innovation tools & techniques.
Transform your leadership, learning & execution abilities.
Keep your momentum strong and focused
And much more
I am Matthew K. Cross, the American Fortune 100 strategist who's been called the world's top priority strategist.
I work with organizations such as Allianz, ING, Bank of America, UBS, Stanford University and Qlik. I'm a NYC-based author, speaker and athlete with a strong connection and affection for Romania; I've spent a year over the last decade traveling in and working with numerous organizations and individuals in Romania. My books include The Hoshin North Star Process, The Millionaire's Map, Nature's Secret Nutrient, The Little Book of Romanian Wisdom (a #1 bestseller on Amazon in its category), The Golden Ratio & Fibonacci Sequence and the upcoming Maximize Your Green Zone and The Greatest Business Success Story Never Told.
Join me for this timely and valuable Innovation Masterclass, to invest in and activate breakthrough innovation in your life and work. Come spend a day you'll never forget as you craft the blueprint and plan for the future you'll always remember.
DATE, TIME, LOCATION:
27 September (Friday) 2019
08.45 – 16.30
HOTEL CAPITAL PLAZA, BUCHAREST
Bulevardul Iancu de Hunedoara 54, Bucharest, 011745, Romania
AGENDA:
08.45 – 09.30 – Welcome coffee & registration
09.30 -11.30 – Session 1
11.30 -12.00 – Coffee break
12.00 -14.00 – Session 2
14.00– 15.00 – Lunch
15.00– 16.00 – Session 3
16.00– 16.30 – Conclusion & end of the MasterClass
Participation fee details:
Standard Package: special price offer for Masterclass/ 27th September: 150 Euro+ VAT/ person.
Note: The Standard Package also includes the book "North Star Process", author Matthew K. Cross
Gold Package: special price offer for Masterclass/ 27th of September: 195 Euro + VAT/ person
Note: The Gold Package also includes:
–  the book "North Star Process", author Matthew K. Cross;
–  the book "Golden Ratio" author Matthew K. Cross,
–  one coaching session 1:1, live session, with Matthew K. Cross (between 27th September and       25th  October 2019) .
---
For registration and additional information contact:
Laura Gheboianu – Event Project Manager, Tel: 0726.768.079
or email at: [email protected].
---