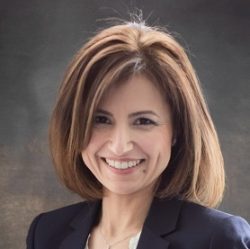 Chief Digital & Technology Officer, E.ON România
 Andreea joined E.ON Romania in April 2018, when she took over the position of Deputy General Manager – member of the Management Board and Strategy and Digitalization Director.
Currently, Andreea leads the Digital Transformation, Data Strategy and Information Technology areas of ​​E.ON Romania, as Chief Digital & Technology Officer.
Andreea Ioniţă has an international experience of over 14 years in telecom industry, in Romania, Great Britain, Sweden and in several countries in Africa as well, working in different management positions for companies such as Orange, Ericsson and Vodafone.
From her previous position – Strategy and Program Management Director Orange Romania and member of the Management Board, Andreea contributed to the development of the vision and the market strategy of one of the top companies in the telecommunication industry. She graduated the Academy of Economic Studies, Faculty of Finance and Banking, attended Master's Degree courses in Business Management and participated in specialized courses organized by prestigious institutions such as: International Institute for Management Development (IMD), Switzerland, Boston University Management School, USA, IESE Business School Barcelona, Spain and Asia-Pacific Leadership Development Institute Beijing, China.