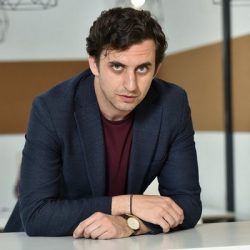 Ciprian Stanescu is Managing Partner with Social Innovation Solutions, an organization offering consultancy and support for NGOs and corporations on social impact, future trends and innovation. He and his team manage a variety of educational programs and business competitions for youth like Social Impact Award and Future Makers, or large international conferences like Future Summit.
Ciprian worked for 2 years for Ashoka Romania and 10 years for the Aspen Institute Romania. He is a Global Shaper Alumni of the World Economic Forum and co-founder of Global Shapers Bucharest Hub.
In 2017 he started teaching a class in Futurism at The Entrepreneurship Academy and is currently a PhD candidate in International Economics in Bucharest Ciprian holds an MA in Political Science from the Central European University and is a frequent speaker on Futurism and Social Innovation both in Romania and abroad.