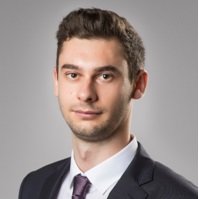 Radu Zmaranda – Associate, CIPP/E
bpv Grigorescu Ştefănică   
Radu Zmaranda is a lawyer in the bpv Grigorescu Stefanica team.
Radu is part of the Technology, Media & Telecoms department, providing legal assistance to clients on issues of law in the IT, media and telecommunications sectors and, at present, on the measures necessary for compliance with the new General Regulation on Data Protection. Its areas of interest include corporate governance, commercial law and intellectual property law.
He obtained his master's degree from the Erasmus University of Rotterdam, where he strengthened his theoretical knowledge in commercial law and intellectual property law.
Radu holds the international accreditation CIPP/E (Certified Information Privacy Professional/ Europe), awarded by IAPP (International Association of Privacy Professionals), the world's preeminent credential in the area of privacy. He offers legal consultancy in Romanian and English.
bpv Grigorescu Stefanica is a Romanian law firm with a portfolio including some of the most audible names in the IT industry. Our TMT practice was ranked as a Top Tier in our jurisdiction by the international guide Legal 500 for working with some of the most prominent actors in the sector, from fast-charging start-ups to global giants in digital and industrial technology.